Sandeep Garg
blockchain, Business, web3 — July 2, 2022
Author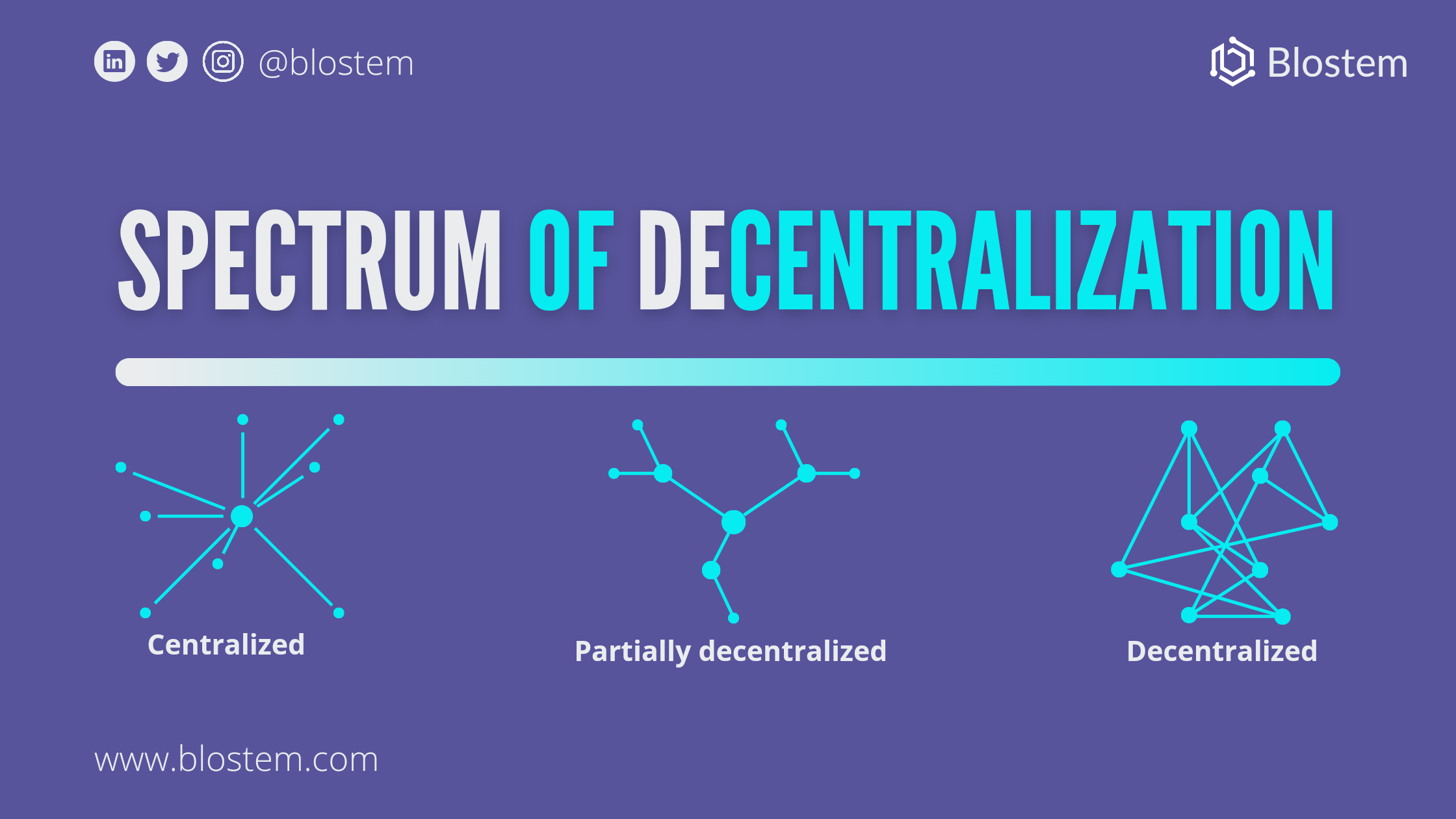 The Spectrum of Decentralization
There is a spectrum of decentralization too! Yes, not lying.   The introduction of blockchain has led to an upsurge in demand for decentralized business systems. Organizations realize the limitations of centralized systems and, therefore, focus on developing a more decentralized system. However, it is not possible for businesses to move to a completely decentralized system from a centralized system.   In this article, we will try to understand the spectrum of decentralized systems. How one can benefit by adopting a hybrid strategy of applying the mixture of centralized and decentralized systems in the organization.    
Key Takeaways from this article -
Forms of Blockchain Network
Uses of the different types of blockchains
Benefits of the types of blockchain
Blockchain technology has a wide scope. And it is being constantly developed to explore its potential. It provides the users with multiple options for creating a decentralized as well as a centralized system. There are majorly 3 forms of the decentralized system in the spectrum of decentralization -  
Centralized Blockchain technology doesn't completely despise the importance of centralized systems. Centralized systems in businesses and organizations have been present since time immemorial and their importance cannot be disregarded nevertheless. Therefore, blockchain technology provides the users with the advantage of creating a centralized system or network. This type of network is comprised of credible participants and their identities are known to the owners of the network.A centralized blockchain is also a distributed ledger, however, the number of participants is limited and restricted entry is allowed into the network. The system allows the organization to have complete control over the network. It majorly helps the organization in preventing loss of data and misuse of data by hackers or unauthorized users.
Uses of centralized system
A centralized blockchain can be used in highly regulated industries. Financial institutions and banks are such organizations that can use a centralized blockchain network. It allows the institution to have the identities of the participants in the network.  
Benefits of Centralized Systems
It presents the institution with benefits like -
Privacy
Regulations
Security
Transparency
Partially Decentralized A partially decentralized system is the grey area between completely centralized and decentralized systems. It is highly beneficial for organizations and one of the optimal business solutions. It is a hybrid technology, a combination of permissions, and a permissionless blockchain network. The system restricts the entry of users into the network but allows certain transactions in a permissionless manner. This is a more efficient and reliable form of the decentralized system in the spectrum of decentralization.Moving to a completely decentralized network is not possible for businesses as it too has various complications and disadvantages. Organizations having crucial information cannot allow its disclosure in the public network. Thus, they require a hybrid system of networks.
Use of Partially Decentralized Systems
A hybrid system of the network has multiple use cases, it can be applied to various industries and sectors. Partially decentralized systems are a combination of private and public blockchains. It can be adopted by large-scale businesses as well as small case businesses. IBM is one of the early users of a partially decentralized system, it has adopted this system to manage and increase the efficiency of its food supply chain.  
Benefits of Partially Decentralized Systems
A partially decentralized system has multiple benefits like -
Better control
High Scalability
Regulation of network
Faster transactions
Decentralized
The decentralized system in the blockchain is one of the most prominent systems in use. It is another extreme in the spectrum of decentralization. Cryptocurrency like Bitcoin is based on a decentralized blockchain network. It is a completely decentralized network without a central authority regulating the network. All the transactions in the network are verified by the nodes in the network. It is a permissionless network or a public blockchain. Most of the cryptocurrencies are based on public blockchains.   The whole network works upon trust and algorithms. The network is secured with cryptographical encryption and requires miners to validate the transactions in the network.   However, it is not an optimal solution for businesses and organizations. Businesses require partial control over the network so they can regulate the transactions. Also, they require to have restricted entry of participants in the network to prevent misuse of information.  
Uses of Decentralized Systems
Thus, public blockchains or permissionless networks are suitable for public organizations, cryptocurrencies, and institutions that are required to distribute information to the public. These networks don't have a centralized authority. The public blockchain systems are also being developed for Decentralized Finance (Defi). It would eliminate the multiple middlemen in the finance industry and present the industry with a more reliable network.  
Benefits of Decentralized Systems
Transparency
Distributed Ledger
Data security
Immutable
Conclusion
The spectrum of decentralization has multiple dimensions. However, it is majorly categorized into 3 forms. These three forms of decentralized systems are being widely used in organizations, businesses, and industries. They present the users with multiple use cases and each type has its pros and cons. Each industry or sector can utilize the blockchain network to serve its purpose. Blockchain technology is being constantly developed to suit the requirements of businesses and organizations. And soon much of the businesses will be based upon blockchain technology. The article above helps us understand the spectrum of decentralization and various use cases of the forms of blockchain. The basic purpose of the technology is to make transactions and information exchange more efficient and reliable.  
Who are we?
Built for the needs of financial institutes to collaborate with other organizations to enable seamless verification of Assets and enable use cases to deliver the next leg of growth. Blostem is an enterprise blockchain platform that delivers privacy, scalability, and security making it the DLT platform of choice for financial services and beyond. Follow us on our social media handles and subscribe to our blog for regular updates on Blockchain Technology.